Article written by: Barwell & Hollycroft Surgery
---
Many GP practices are visited by patients who are struggling with loneliness. The pressures on GP surgeries mean that GP's do not have the time to spend chatting to people to help alleviate their feelings of loneliness. The Jo Cox Foundation discovered that loneliness does more harm to people's physical and mental health than obesity and smoking 15 cigarettes a day – anxiety stress insomnia, depression and dementia are also symptoms associated with loneliness.
To begin with it was really difficult to work out how best to develop the idea.  People's time is precious and face to face Befriending is very valuable but many people do not have the capacity to take this on.  Telephone Befriending then began to seem a possible way of offering a service where people in full time work could give up some time a week talking to a Befriendee.
At first it was difficult to get started but the big change came with the introduction of Local Area Coordinators, financed by Social Services and Social Prescribers funded by the NHS. These people are linked to GP surgeries and do brilliant jobs of dealing with non-clinical issues that patients have. Referrals  from health professionals meant that a holistic approach was being satisfied so not only was loneliness addressed but things contributing to their loneliness (health, family issues, mobility) were also being looked at.
With this in place then referrals began to be made to us.
But wait! Referrals are fine but we didn't have any volunteers so I was advised to look at VAL (Voluntary Action Leicestershire) and the Rural Community Council (RCC) who both offered very valuable advice. The need for DBS checks was discussed, training needs and funding opportunities identified.
Befrienders are there as Alerters not as people who solve the problems of the people they are assigned. If we have concerns then these are passed through our Coordinator who then contacts the person who referred the Befriendee to us.  We then step back allowing the professionals to take over.
Getting new recruits is always a problem but since advertising through VAL we have had 10 of our 41 Befrienders come to us.  We are delighted to say that one of those can speak a number of Indian languages and we have our first referral so this will hopefully mean a more meaningful interaction can take place.
After three years we are seeing that the benefits to this service don't only serve the person referred to us but also the Befriender gets a great deal out of some very interesting conversations. Some long term friendships have developed and thrived.
We have also been nominated twice for the Hinckley & Bosworth Making a Difference Awards and were, along with 3 other organisations, finalists in the National Association of Link workers Awards for Community Groups.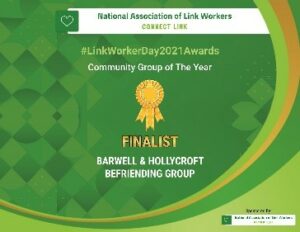 Get involved in volunteering
If you're inspired to get involved in volunteering, you can find out more on our VAL Volunteering website.
If you're a voluntary, community or social enterprise organisation who wants more support with recruiting or managing volunteers, you can get in touch with us via:
helpline@valonline.org.uk
0116 257 5050