It's an opportunity to shine a light on those individuals who are giving back to the amazing communities we live in.
Volunteers' Week takes place each year on 1-7 June in the UK to celebrate volunteering and take some time to thank volunteers for everything they do. As Volunteers' Week this year falls at the same time at the Queen's Jubilee, VAL is extending our local celebrations this year to the whole of June as a 'FestiVAL' of Volunteering, so it is a great time for you think about getting involved as a volunteer!
Volunteering is a crucial part of local communities, helping to connect people together, make sure that the most vulnerable members of society are supported and creating opportunities for organisations to have a greater impact on people's lives.
To find out more about what we are doing for Volunteers Week click here.
Organisation of the Month
We would like to introduce our Organisation of the Month: 'Barwell & Hollycroft Surgery'
The VAL Volunteering team helps to find volunteer telephone befrienders, for the Barwell & Hollycroft Surgery Telephone Befriending Service'. The volunteers have worked really hard in keeping conversations going through COVID, and they are looking forward to getting involved with activities which will bring some of the most vulnerable people out of their homes into a safe environment where they can engage once again with people around them.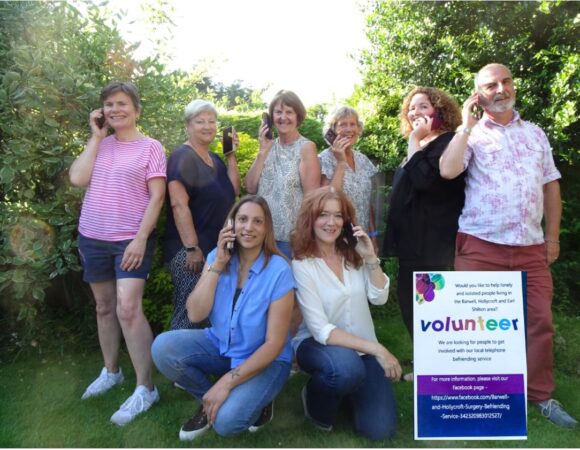 Barwell & Hollycroft Surgery Befriending service
Three years ago the Patient Participation Group (PPG) at the surgery was asked to look at the idea of a Befriending service. Many GP practices are visited by patients who are struggling with loneliness. The pressures on GP surgeries mean that GP's do not have the time to spend chatting to people to help alleviate their feelings of loneliness.
Read more
FestiVAL Events
Come along and join us to celebrate our #MonthofCommunity festival. Here is the list of events which we are holding as part of our festiVAL: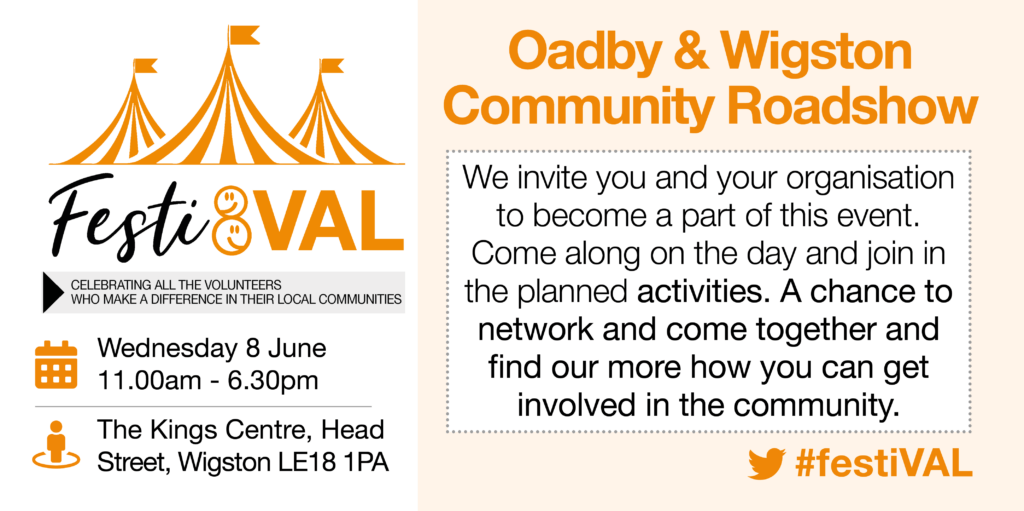 Wednesday 8 June 2022
VAL is working in partnership with local groups to organise a Networking Session for Oadby & Wigston groups, followed by a Community Roadshow.
A face to face Community Roadshow Event hosted by,
VAL, Oadby & Wigston Borough Council, Active Oadby and Wigston, Helping Hands Community Trust and Leicestershire County Council.
Find out more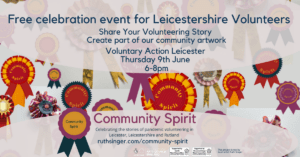 Thursday 9 June 2022
Community Spirit – Volunteering
FREE celebration event for Leicester and Leicestershire Volunteers!
Share your story & create part of a community artwork. Join our free event to celebrate and share.
We want to record the amazing work volunteers did to keep us all going through lockdown and beyond
Find out more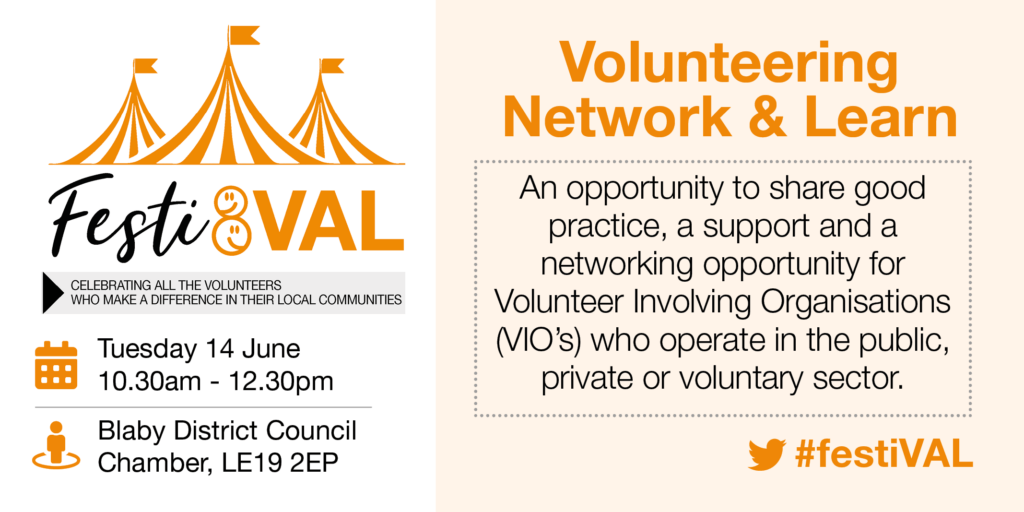 Tuesday 14 June 2022
Voluntary Action LeicesterShire are holding the next Volunteer Network and Learn event in partnership with Blaby District Council.
The Network is an opportunity to come together to share good practice, get updates on changes to volunteering policies and learn about how to best recruit, manage and train your volunteers.
Find out more
Tuesday 21 June 2022 – Volunteering and the Law
10am – 12pm
This session focuses on the legal obligations in managing volunteers.
The aim of the session is to give managers of volunteers a better understanding of their legal obligations in managing their volunteers effectively.
Please note a maximum of 2 people per organisation
Find out more
Start your volunteering journey today

Volunteering makes such a huge difference to other people's lives, but the biggest impact it can have is on you! Have a look at our VAL Volunteering website to find out how you can get involved in something new and start your volunteering difference.
Make a difference today to a local organisation, your local community, but most importantly, make a difference to your own life!
Start volunteering
8 ways you can give back to your community
If you are looking for inspiration, here are eight ways you can get involved and give back to your community. Older people are extremely vulnerable to loneliness and social isolation. Loneliness can have a huge impact on an older person's physical and mental health and contribute to a wide range of health conditions including heart conditions including heart disease and depression.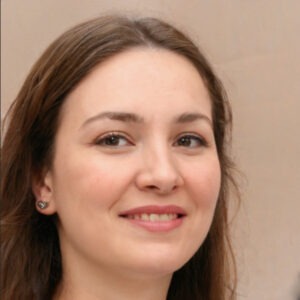 Rosie is a freelance writer who has recently graduated from the University of Gloucestershire with a degree in English Language. Read her article on volunteering and how this Volunteers Week is the ideal time to get involved with charitable projects in your local area.
Read more here
Sign up to our volunteering newsletter
Our Involved newsletter is your monthly update on volunteering related news and exciting volunteering opportunities.
Sign up to receive news