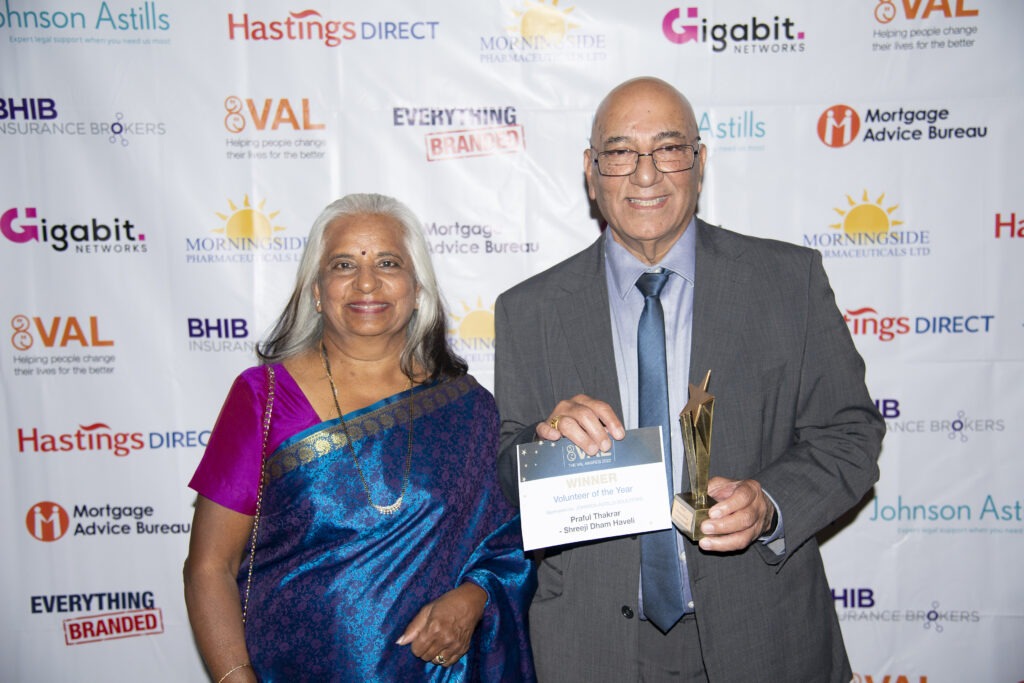 Pictured: VAL Awards 2022 Volunteer of the Year Winner, Praful Thakrar – Shreeji Dham Haveli. Photo by Saul Morgan.
The VAL Awards, originally established in 2019, has become an annual tradition for the Leicester-based Voluntary Action Leicestershire charity 'hub' and a chance to shine a spotlight on the invaluable work of volunteers, community groups, and charities that go above and beyond to make a positive impact, and whose dedication and passion make Leicester and Leicestershire a better place for us all to live.
The ticketed event will be held on Friday 10 November in the Grand Hall at Leicester's The Grand Hotel.  The awards are made possible by the generous support of local businesses, which include headline sponsor, Market Harborough Building Society.  Confirmed category sponsors include Aspire Pharma Ltd; Fraser Urquhart Media; PPL PRS; Meesh Consulting and Paragon Sales Solutions.  Monies raised allow the event to run without charge to nominees and their chosen guests.
Finalists for each category are as follows:
City Charity of the Year
One Roof Leicester
Big Difference Company
Cook E-Learning Foundation (E2)
County Charity of the Year
Helping Hands Community Trust
Falcon Support Services
The Jubilee Food Bank
Social Enterprise of the Year
Team Hub
The Hub Educational Services CIC
Leicester Community Links CIC
Fundraiser of the Year – sponsored by PPL PRS
Darren Bradbury
Chris Shaw
Arif Voraji
Trustee of the Year – sponsored by Paragon Sales Solutions
Glynis Wright
Eileen Richards
Jay Webb
Inspiring Leader of the Year – sponsored by Aspire Pharma
Rehana Sidat – Jamila's Legacy CIC
Jaimini Bharakhada – Belgrave Neighbourhood Co-operative Housing Association (BNCHA)
Dee Dixon – Goldhill Adventure Playground
Grant Paton – Advance UK
Lindsay Young – The Friendly Bench CIC
Volunteer Led Organisation of the Year
Leicestershire Junior & Youth Disability League
Fleckney Kitten Club
The Baldwin Trust
Feed the Need Coalville
Charity & Business Partnership of the Year – sponsored by FU Media
Pedestrian Ltd
Leicestershire Cares
Axiom Energy
Kathryn Burgess Volunteer of the Year – sponsored by Meesh Consulting
Kathy Oliveira – Helping Hands Community Trust
Richard Bryt – Arnold Lodge
Wayne Francis – Home-Start Horizons
Graham Pote – Eyres Monsell CYP
Jas Kainth – Living Without Abuse (LWA)
Kevin Allen-Khimani, CEO at VAL, commented:
"It has been wonderful and awe-inspiring to see so many amazing nominees come through for this year's VAL Awards – the first in my tenure as CEO. I am incredibly proud of the challenges the sector has overcome in the last few years, and very much look forward to celebrating all the amazing achievements on awards night."
Lesley Vernon, Chief Engagement Officer at MHBS:
"Giving back is at the heart of everything we do and we're proud to support an event that recognises the hard work and dedication of the amazing volunteers and charitable organisations in our local community. We look forward to honouring the remarkable nominees and coming together to celebrate their achievements next month."
Voluntary Action Leicestershire looks forward to an unforgettable awards ceremony and invites you to join them in celebrating the outstanding individuals and groups that make our community stronger and more vibrant.  Ticket sales are still available, at the time of issue.