Why should you plan?
You need to plan in order to make your organisation more effective, sustainable and organised. Planning enables you to better think about your organisation in its current state and how it might move forward.
By going through a planning process you should be able to:
Lead your organisation more confidently
Complete funding applications and tendering exercises more quickly and effectively
Convince partners and funders that you are worth investing in
A planning cycle
Whatever type of plan your organisation develops, a cycle approach should be taken, as demonstrated in the image below. By adopting this approach, you will constantly be reviewing the performance of your organisation and its services and looking for possible improvements.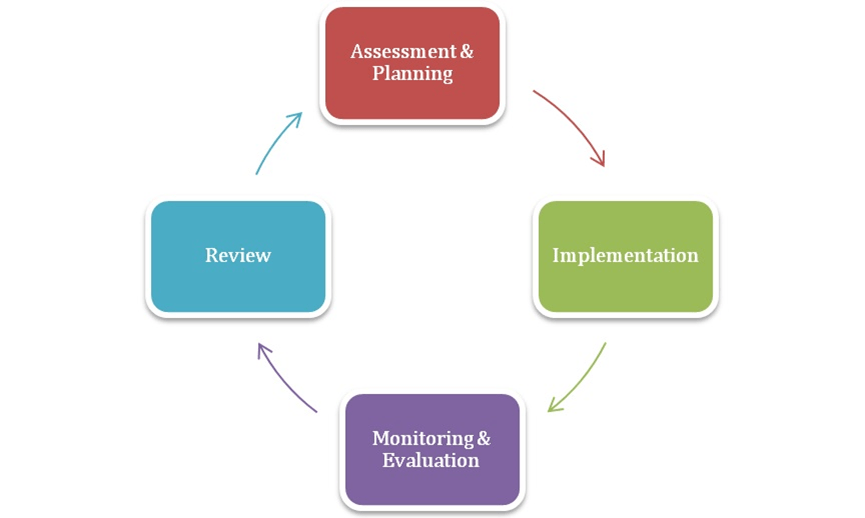 What type of plan is most appropriate for your needs?
Business Plan
A business plan is usually written to cover a 3-5 year period. It is a formal plan that will look at what the organisation wants to achieve, it should define a clear way of working towards your organisations strategic aims, exploring your strengths, weaknesses, market and need assessment and financial planning.
Project Plan
A project is a time limited piece of work, it might be one small part of a much larger organisation or scheme of work. A project plan outlines the aims and objectives of specific activities being carried out by an organisation.
Strategic Plan
A strategic plan is more inward looking, it covers your long term mission and should look at the internal and external environment surrounding your organisation. A strategic plan should look at priorities, resources, transitions and changes, challenges and setting out concrete goals for the organisations future.